Negotiation Generally
See Also:
Terms:
---
Ratified:
Ratification is the process whereby a party explicitly approves or authorizes to some terms or agreement which was not previously approved. If two parties each give their attorneys some degree of latitude in what terms are acceptable to them, once the exact terms are settled, the clients must still ratify the agreement. Generally, this means the parties must sign a contract, a memorandum of agreement, or some other document whereby the parties bind themselves to the terms as therein set forth

While there are an infinite variety of paths which might be taken in any particular negotiation situation, Nutshell provides a useful 10 point "planning checklist" (pp. 33 - 34) which provides a good jumping-off point for our more thorough discussion of negotiation. The following list is based upon the Nutshell version:
Familiarize yourself with the underlying facts.
Determine whether any additional information is needed in order to proceed with your planning.
Determine the weakest aspects of your client's case and strongest aspects of your client's case so that you can plan around these.
Determine whether you are dealing with a cooperative/integrative situation or a competitive/distributive situation (see detailed discussions below for characteristics of each).
Discuss your client's goals and objectives with your client to understand what he or she is hoping to accept and what he or she is willing to give.
Determine what, if any, direct role the client will play in the negotiation process (note: rules of ethics dictate that all offers must be conveyed to your client, that your client must be kept reasonably informed, etc., even if he or she is not actively involved in the negotiation process).
Research and review all relevant law.
Consider alternatives to successfully negotiating an agreement – both to determine whether negotiation is appropriate and to develop a contingency plan.
Decide on initial strategy and tactics.
Determine what information to give the opposing party (bearing in mind client confidentiality and other rules of ethics).
Obviously, this is a generic, over-simplification of the process. Also, many of the steps here will require decision-making or action by an attorney, but legal assistants are an integral part of negotiations at most law firms. At the very least, quite often, it is the paralegal's summary of facts (#1) and legal research (#7) upon which the attorney relies. An experienced, well-trained paralegal, however, might also be asked to give input about the case's strengths and weaknesses (#3) or to interview the client to collect information (#5).
EXAMPLE: Frank L. Wrong is a long-time client of your firm. He has recently been sued for negligently building a private residence at the top of a waterfall, resulting in the speedy erosion of the home's foundation. Frank has a meeting with your attorney, and you sit in. During that meeting, Frank asks if there is anything that can be done to avoid going to court. Your attorney says probably not. Should you point out that negotiation is always on option?
The answer here is a resounding "No!" for more than one reason. First, legal strategy is the realm of attorneys, not paralegals. Second, while it may be appropriate to broach the topic to your attorney to ensure that he or she has considered negotiation, it would surely be inappropriate to mention it directly to a client if the attorney has chosen not to.

Most importantly, for our purposes, you do not know to what extent, if any, the attorney has already gone through the 10-point analysis described above. For example, the attorney may know that the opposing party has previously adamantly refused to entertain any offers for settlement, thus she is familiar with some underlying fact which would indicate negotiation is not the way to go (#1 and #8). Or, she may have identified some weakness (or strength) in the client's case which indicates that going to trial would be more advantageous than negotiation (#3 and #8). Whatever the case may be, discussing this privately with your attorney will allow you to present your ideas without undermining the attorney-client relationship and jeopardizing your job!

In "Resolving Disputes: Theory, Practice & Law," Folberg et al., Aspen Publishers 2005, pp. 79 – 80, we find a somewhat different "chart" of the negotiation process. Folberg splits negotiation into seven distinct stages, and for each stage discusses its workings depending on whether the negotiation is adversarial or cooperative (see subchapters 2 and 3). The precise ways in which these stages differ, depending on the type of negotiation scenario at hand, is best left for discussion in subchapters 2 and 3 which follow.

Roughly, Folberg's seven stages are as follows:

Prepare and set goals (very similar for both adversarial and cooperative scenarios).
Initial interaction and offers (somewhat different for the different scenarios).
Exchanging information and refining information you have/received.
Bargaining (quite different in adversarial scenarios than in cooperative scenarios).
Moving toward closure (again, quite different actions depending on which scenario is in effect).
Parties either reach an agreement or reach an impasse.
Finalization and writing of agreement reached (if any).
The fact that Folberg's chart does not closely mirror Nutshell's list does not actually force us to choose one formulation over the other. Rather, we can look at these as complimentary, and recognize that neither is likely to accurately describe any particular negotiation situations.
One way to look at it is to think of Folberg as picking up where Nutshell left off. Nutshell's primary focus is on what lawyers and paralegals must do before actually engaging the other side in negotiation. Folberg, on the other hand, concentrates on what happens once the initial contact is made.

Combining the ideas in Nutshell with Folberg, we can develop our own useful flow chart of the various stages of negotiation. Again, it is important to recognize that this generic formulation is an extreme over-simplification. It should, however, allow us to go forward with a comprehensive, "big-picture" of what might happen in a typical negotiation.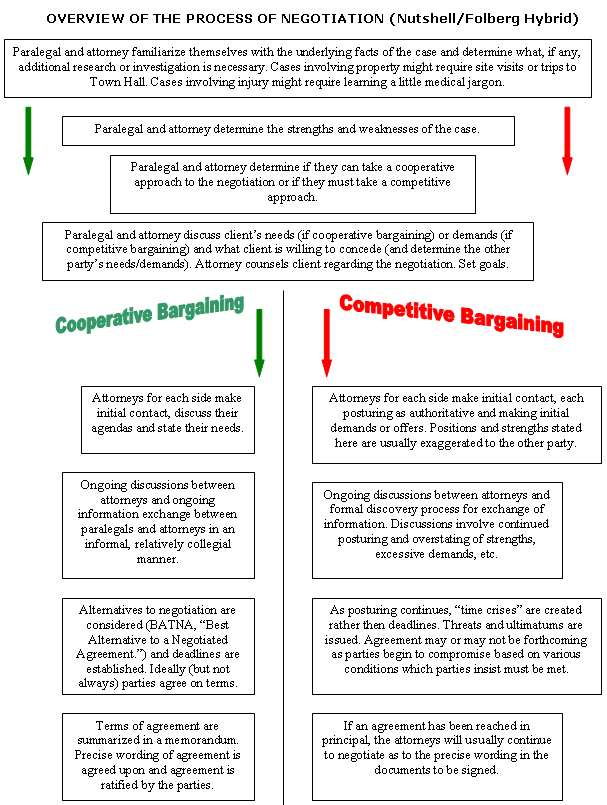 Finally, to round out our general understanding of negotiation it is important to cover agreements to negotiate. When we move on to mediation and arbitration we will examine contracts in which the parties agree to mediate or arbitrate claims related to the contracts rather than file suit. What about if parties were to include an agreement to negotiate?

EXAMPLE: Louis and Jack enter into an agreement for a land lease whereby Jack agrees to lease land from Louis for $1 million per year for a term of 20 years. At the end of that term, according to the contract, Jack may renew for an additional 10 years "at a price to be negotiated in good faith by the parties at the end of the original term." This clause is invalid, as agreements to agree cannot be enforced. If Louis is not willing to participate in said negotiations after 20 years, a court could not order him to do so.
Agreements to negotiate, therefore, are essentially meaningless.